Outdoor Vacuum Circuit Breaker, Up to 33 kV
Pioneering zeal of Energypac Power created the first indigenously made outdoor porcelain clad vacuum circuit breaker in the country. With further innovative skills, Energypac made the circuit breaker to meet highly demanding needs for performance from all sections of people like Consultants, Contractors, and Industries & Utilities. Special feature of our outdoor vacuum circuit breakers include:
Compact design
Low operational load
Low Maintenance
Minimal fire hazard
Low noise level
Extended life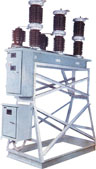 Each phase of the three phases circuit breaker is self contained in a porcelain bushing, which houses the Vacuum interrupter. This porcelain bushing is supported by another porcelain bushing which contains the drive and for the interrupter. OFVp-36 employs rated vacuum interrupters as an arc extinguishing medium. These interrupters are procured from the most renowned and best quality manufacturers of the world. Mechanism is designed for operation of very short stroke required in vacuum interrupter and is normally charged by motor but as a standby manual charging facility is also provided for the operation in case of necessity. The mechanism cabinet comprises of sheet steel enclosure, which conforms to IP 54 standards and is bolted directly with the circuit breaker supporting steelwork.
The closing mechanism includes the following indications:
Breaker on/off
Spring charged or discharged
Operation counter
The cabinet is also equipped with following features, wherever required.
Local on/off switch
Local/remote switch
Anti pumping relay
All necessary fuses and wiring.
The special features OFVp range provides customers are :
Simple assembly
Few moving mechanical components
Low energy mechanisms
Light weight construction
Ease of erection
Reduced foundation
Suitable for high speed auto reclosing and capacitor switching
Protection against hazardous environments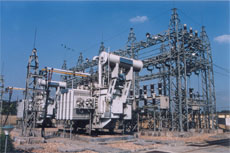 Current transformers and Potential transformers suitable for outdoor application can be provided for mounting on cantilever type support structure as package wherever required. Indoor or Outdoor type Control and Relay panels houses the meter, relays, switches etc suitable for structure mounting on to the VCB structure or for separate plinth mounting can be provided along with the Vacuum Circuit Breaker.
In addition to transformer and feeder switching where outdoor vacuum circuit breakers are widely used, OFVp-36 is capable of switching circuits for following applications. The circuit breaker is ideally suitable for capacitor switching up to 5 MVAR rating. OFVp-36 type Outdoor Vacuum Circuit Breaker is suitable for switching of arc furnace transformers up to 50 operations per day.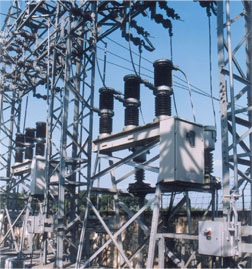 TECHNICAL PARTICULARS:
Applicable Standard: IEC60056
Type Designation: OFVp-36
Normal Voltage: 33kV
Rated Voltage: 36 kV
Frequency: 50 Hz
Normal rated current: up to 1600 Amps
Short circuit breaking capacity: up to 25 kA
Rated 1 minute Power frequency withstand voltage: 75 kV rms
Rated impulse withstand voltage: 170 kV peak
Nominal creepage of bushings
Support - 910 mm
Interrupter housing - 910 mm
Duty cycle 0 full breaking capacity:
Normal - 0-3 MIN - CO- 3 MIN-CO
Auto reclose - --0.3 sec-CO-3 MIN-CO