Indoor Vacuum Circuit Breaker, Up to 33 kV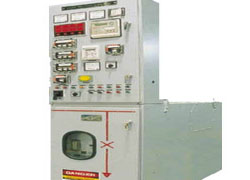 Energypac is the first and only company in Bangladesh to introduce horizontal isolated, horizontal draw out type vacuum circuit breaker in the country way back in 1998. Large numbers of these circuit breakers are today in operation in Bangladesh and other parts of the world. This specially designed equipment offers following concepts:
a) Customer friendly
b) High degree of safety
c) High operational reliability
d) Rugged design
e) Simple in construction
f) Modular and compact
g) Easy maneuverability of truck
h) Extensible with high degree of customization
The construction is of metal clad type and uses high grade CRCA steel of adequate thickness ensuring safety and security. HHV 12 employs rated vacuum interrupters for arc extinction. The interrupters are procured from most renowned and the best quality manufacturer of the world, CUTLER-HAMMER (EATON), USA.
Special characteristics of vacuum interrupters are :
a) Very low arcing time
b) Quick recovery of dielectric strength
c) Small contact gap
d) Trouble free service
e) Low energy mechanism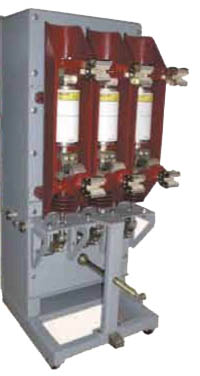 The mechanism M-37 is of conventional design and is very simple in operation and construction. Mechanism is designed for operation of very short stroke required in vacuum interrupter and is normally charged by motor. When charged, the closing spring is held by a latch which can be released either by manual means or by a solenoid to close the circuit breaker. The energy required for opening is provided by the springs, incorporated in the drive assembly which is compressed during the closing stroke.
The closing mechanism includes the following indications:
Breaker on/off
Spring charged or discharged
The following features are also provided on the switchgear.
Operation counter
Local on/off switch
Local/remote switch
All necessary fuses and wiring

Cubicle is compartmentalized design in various segregations and bus bars are fully insulated for specified power frequency withstands voltage through use of shrinkable sleeves. Cable chamber is located at the rear of the panel and can accommodate 6 nos. single core 1000 sq. mm. cable or equivalent. The cable box is designed for cable entry from top or bottom and sufficient head room is provided for cable termination. Relays, indicating instruments and measuring instruments are mounted on a separate chamber. This is a LT chamber and is fully segregated from the other chambers. The relays and meters are mounted on a hinged door and are located at a comfortable height for ease of viewing and maintenance. Where required, earth switches can be provided as an integral part of the equipment. The earth switches are independent in operation to the main closing mechanism, and are interlocked to prevent use when the VCB is connected into its service position.
In addition to regular distribution function HHV-12 is ideally suitable for capacitor switching application and auto reclosing duty. HHV-12 is manufactured strictly under technology standards set by the company with the components and subsystems selected through strict quality control procedures as per ISO 9001 certifications guidelines. With its systematically developed technology, the vacuum circuit breaker of type HHV-12 occupies a leading position in networks for electrical power distribution.
Applications:
Power stations
Transformers
Chemical industry
Steel Industry
Automotive industry
Airport power supply
Cold storage power supply
Building power supply
Our Circuit breaker is designed for switching:
Short circuit current
Cables overhead lines under load and no load conditions
Ripple control system
Capacitor banks
Transformers and generators under load and no load conditions
Key Features:
Long maintenance free operation
Fully metal clad design
Horizontal isolation
Busbar system fully insulated
Manual or motor charged main closing mechanism
Fully rated with switches
Complete set of interlocks and padlocking facilities
Isolatable voltage transformer
Ample current transformer accommodation
Extensive use in tropical environments
Safety interlocks
TECHNICAL PARTICULARS:
| | | |
| --- | --- | --- |
| Technical Particulars | 11KV | 33kV |
| Applicable standard | IEC 60056 | IEC60056 |
| Type Designation | HHV-12 | HHV-36 |
| Normal Voltage | 11kV | 33kV |
| Rated Voltage | 12kV | 36 KV |
| Frequency | 50 Hz | 50 Hz |
| Normal rated current | 630/1250/1600/2000 Amps | 1250/1600/2000 Amps |
| Short circuit breaking capacity | 20kA/25kA/31.5kA | 25kA |
| Rated 1 Minute Power Frequency | | |
| Withstand Voltage | 28 | 75 kV Pms |
| Rated impulse withstand voltage | 75 | 170 kV Peak |
| Duty Cycle full breaking capacity | | |
| Normal | 0-3 Min-Co-3 Min-Co | 0-3 Min-Co-3 Min-Co |
| Auto reclose | 0-0.3 Sec-Co-3 Min-Co | 0-0.3 Sec-Co-3 Min-Co |