Control, Metering, and Relay Panels, Up to 230 kV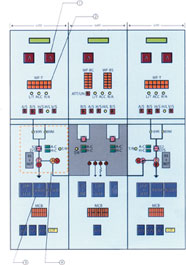 Control, Metering and Relay panels facilitate centralized control of the related controlled equipment in power stations, switching stations and industrial plant. Energypac designs of control, metering & relay panels are based on the concept of unit assembly from standard parts.
The panel is built up of separate sheets which consist of front panel, two side panels, door frame, door and roof providing rigidly and strength. The panel has a standard dimension of height: 2350 mm, Width: 400 mm to 900 mm and depth: 500 mm to 1200 mm. Design and manufacture control & relay panel based on Customer's requirement. The enclosure is constructed by using sheet steel and is equipped with interior lamp, anti-condensation facilities. It is suitable for floor mounting and bottom entry of auxiliary power and multicore cable.
Major Compartments/Components of Control Relay Panel:
Metering
Window alarm fascia
Mimic Diagram & control
Protection relay
Metering Instruments:
Ammeter
Voltmeter
KW Meter/kVar meter
Energy meter
Frequency meter
Power factor meter
The panel incorporates control switches and indicator lamps for remote control of controlled equipment.
Other Accessories:
Healthy trip alarm and test switch
Auto/Hand trip counter for circuit breaker
All necessary switches, auxiliary relays, interposing transformers, fuses, links, MCB's test terminal blocks, terminals wiring, lamps and labels etc.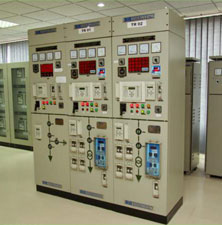 The protection relays are equipped for fault protection of system operation. Protection relays are designed and applied to provide maximum discrimination between faulty and healthy circuits. Facilities are provided to give remote signal and audible alarm alerting the control room attendant of the operation of protection devices and mal-operation of power equipment.
MIMICS:
Strip mimic diagrams incorporating semaphore indication and discrepancy switch. Strip mimic diagrams incorporating semaphore indication and discrepancy switch.
Over current and earth fault protection
Differential protection
REF protection
Standby unrestricted earth fault
Tripping relay
Trip circuit supervision